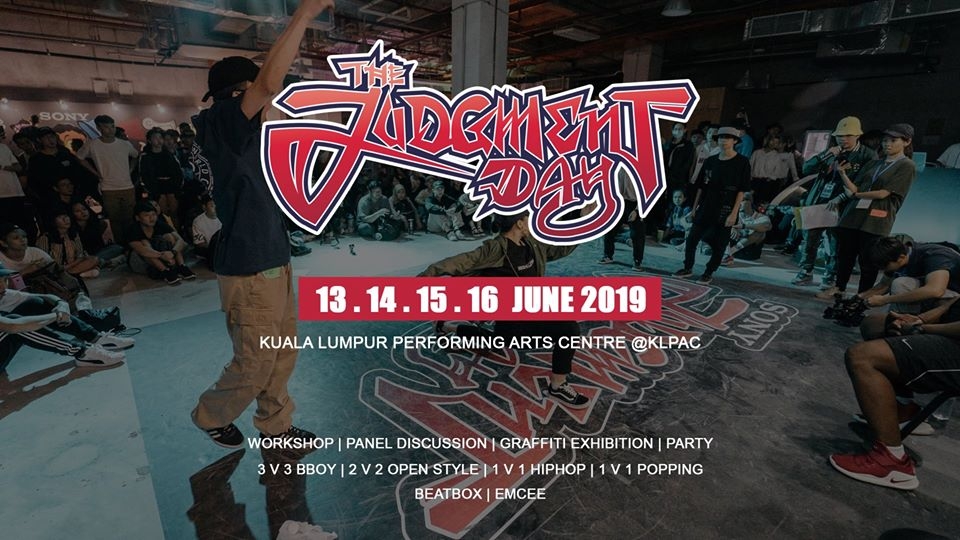 #
The Judgment Day Jam 2019 // Malaysia's largest Hip Hop Festival

An event that I look forward to every year to go check out and see the evolution of the hip-hop culture in South East Asia, an events that bridges all hip-hop elements in one, a place to battle, check out some great talents, see who will be the champ and not to forget of course meeting some familiar faces and meeting new ones.



The event is going to be over 3 days this coming weekend, lots of regional and international judges, champs and people will be coming through Kuala Lumpur this weekend to witness the battles and take part in the vast amount of workshop and community knowledge sharing among lots of other side activities .

For the second year in a row, I have been blessed to take part in this event as I will be performing again live this coming Sunday the 16'th at the Space Jam Concert holding it down on the 1 n 2's supporting the MC battle and doing some portablism and turntablism showcases.
You can check me out performing live this coming 16'TH of JUNE 2019

▶ Location: PENTAS 2, Ground Floor
▶ Time: 7 pm Door Open
▶ Pricing: RM30
▶ Tickets Purchase: SYIMA +6016-4654903 (Being based in Malaysia)

#
The full program schedule and more details:

JD JAM 2019 Registration are now open!
Registration link: https://forms.gle/ZLn6GjXd7vWY7SPA7



▶ Categories:



• 3 vs 3 Breaking
• 2 vs 2 Open Style
• 1 vs 1 Popping
• 1 vs 1 Hiphop



For more info about TJDJAM2019:
www.facebook.com/events/2378973372153200


=== 13 – 16 June 2019 (Thursday – Sunday) ===



▶ Experience Talk
▶ Experience Dance Workshop 2019



=== 14th June 2019 (Friday ) ===



▶ TJD Workshop & Talks



• Panel Discussion (Int. Guest)
• International Open-Styles Dance Workshop



TJD Workshop Link: https://forms.gle/hbjNLhmU2HFLuNTS7



=== 15th June 2019 (Saturday) ===



The Judgment Day 2019 (Main Day)



▶ Battle Categories:



• 3 vs 3 Breaking
• 2 vs 2 Open-Styles
• 1 vs 1 Popping | WDG Asia Qualifier
• 1 vs 1 Hiphop | WDG Asia Qualifier
• Armageddon Beatbox Battle
• Whodaboss Rap Battle
• TJD Dance Showcase Competition
• Kdcc 2019 Grand Final



Battle Registration: https://forms.gle/ZLn6GjXd7vWY7SPA7



=== 16th June 2019 Sunday ===



▶▶ Battle Categories:



• Waackcity KL X Burn It Up
• 1 vs 1 Breaking | WDG Asia Qualifier
• Open-Style King & Queen



▶ The Experience Showcase
▶ SpaceJam Concert



▶ LINK
Experience Showcase:
www.facebook.com/events/2103933169700880
Experience Dance Workshop:
www.facebook.com/events/991623597689740
KDCC2019 Grand Final:
www.facebook.com/events/409059756509893/
---

============ MAIN CONTACT INFO ==============
For more information please contact Freedomdancestudio@hotmail.com