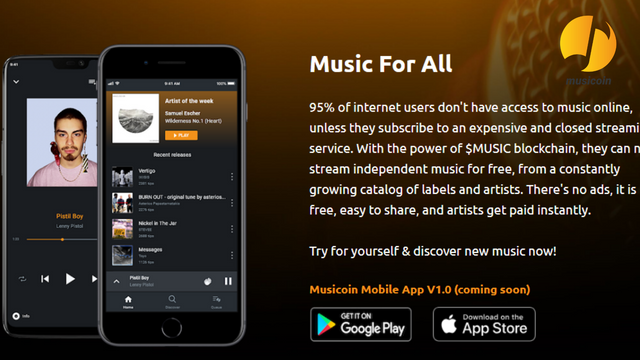 Finally, the Blockchain Music streaming platform Musicoin has released it's new Mobile Desktop App for Android and IOS.
---
What does it mean to Music listeners
Music lovers now have access to a mobile app based on the blockchain that can enable them to listen to a massive catalog of music from around the world
Free to use
Free to listen
No ads or hidden memberships
Ability to instantly tip your favorite artist or song (Made possible by blockchain technology and the Musicoin miners)
What does it mean to Musicians
Musicoin is built on the philosophy of UBI (Universal Basic Income) and Sharism
– Musicians receive Instant payment after each stream in Musicoins offering the most (PPP) Pay-Per-Play at $0.01 minimum and after each tip sent to you by listeners
– Instant payment distribution between all song co-writers takes place and every single transaction
– Transparency thanks to the blockchain
---
Musicoin Mobile App Beta Test Program:
https://goo.gl/Mqqt7T
---
More About Musicoin
Since February of 2017, Musicoin, the world's first blockchain-powered music streaming platform, offering the most (PPP) Pay-Per-Play at $0.01 a Stream which places it as the best payout in the industry.
Musicoin currently hosts over 32,000 original tracks from over 5,000 independent musicians has been a web-only experience. Today I can share with you that we are one step closer to the official release of the Musicoin Mobile Application which is currently under intensive development alongside updates to the web platform user experience.
The Musicoin app offers listeners and musicians alike new ways to discover music and interact with artists — whether at home, in a park, or while taking a road trip.
Along with traditional functionality (artist/song/genre browsing, playlist generation, and recommendations based on listening habits) the app also features the Musicoin's famous Clap functionality. With a push of a button, listeners have the ability to voluntarily "tip" their favorite artists additional
Musicoin, the platform's proprietary cryptocurrency.