Musicoin
Musicoin is a digital currency that designed to support the creation, publication, and consumption of music as a cycle. The system uses a special algorithm to generate a currency called Musicoin (MC), as well as another algorithm to support automated contracts ("smart contracts") which enable creators and consumers to exchange value in a frictionless environment. With a unique currency and a solid contract system, large scale transactions around music becomes possible. Universal Basic Income (UBI) has made it possible for listeners to listen for free and musicians to upload and share their music for free as its paid by Musicoin (MC) miners. Each play for your music is rewarded with one Musicoin, this can be exchanged for fiat money.
---
Founder of Musicoin 'Isaac Mao' Talk to Musicoin TV at SXSW
Musicoin Road-map Animated
If you love Musicoin as much as we do and want to spread the word, the Musicoin Foundation will assist you.
The mission of the Musicoin Global Ambassador Program is to make Musicoin a household word across the planet, fostering music creation and appreciation for all.
---

Musicoin will assist qualified ambassadors conveying valuable information about Musicoin to their chosen audiences in the following ways:

Presentations at local meetups
Video presentations
Online tutorials
Interviews and media co-operation
Other interesting ideas that may further Musicoin awareness
---

How to Become a Musicoin Ambassador:
All potential ambassadors should be familiar with Musicoin Facts and FAQs and should send an example of themselves sharing their knowledge of Musicoin in a public way. For example a Youtube video, a blog post, or an article in print.
---
Let me know If you are interested and contact our Ambassador Liaison via email at ambassadorliason@musicoin.org with this information. The Ambassador Liaison will put you in touch with our Ambassador Approval Team for review.
---
If you are approved to become an ambassador, now is the time to be part of the big Musicoin family and start proposing your initiatives and get rewarded & compensated in $Musicoins crypto.
---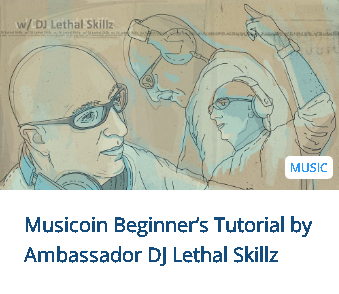 More Information about Musicoin and how You can start your musical journey as a musician on the Blockchain check out my recent article featured on The Creative Crypto the Steem powered magazine dedicated to all things creative on the blockchain developed by the @Sndbox Incubator.
---